Do you have a referral program?
Updated 8 months ago
Yessiree, we do! For every friend you refer (who uses your unique referral link to purchase products off the store*), you get $25 and they get $25! What better way to share the love AND kick plastic in the butt. Win win, right?


HOW DOES YOUR REFERRAL PROGRAM WORK?
If you're an existing Zero Co customer, you can share your unique referral link with as many folks as you like. You can share via email, Facebook & Twitter directly from the store or you can copy your referral link and send it via carrier pigeon if required.
As soon as your friend uses your code on the store to buy some Zero Co (they need to be new to Zero Co and spend at least $99), you'll receive a code via email that you can use off your next purchase with us.
There's no limit to the amount of friends you can refer so go nuts! The more friends you refer, the more single-use plastic will get stopped in its tracks.
You can check your rewards balance anytime you like by logging onto Zero Co and clicking on Referrals in the top menu which will open your referrals panel with all your details.
*Terms & Conditions:
The person you are referring must spend $99 to redeem the $25 off coupon. New customers only.
Existing customers with a Subscription to Zero Co cannot currently referral new customers (our referrals integration has wigged out trying to support Subscriptions, but we are working on it!). If this is you, and you still want to share a discount code with your friend - visit this page, or contact our Customer Happiness Heroes at [email protected] and we'll help with an interim solution to refer your mates.


HOW DO I SIGN UP TO REFER MY FRIENDS?
It's super easy to refer your buddies to become Plastic Busting Legends too. Here's how:
Already signed in? Click on 'Referrals' in the bottom menu to open your Plastic Busting Rewards panel
Either copy your unique referral link and share with friends or share directly to Facebook, Twitter or Email by clicking the icons underneath your referral link.
Wait for the referrals to roll in!! As soon as someone has used your referral link to purchase some plastic-busting do-goodies, you'll get a code sent to you via email for you to redeem on store.



NOTE: You must have an account with Zero Co to take part in our Plastic Busting referral program. So if you're an existing customer and haven't set up your account yet, head over here 😁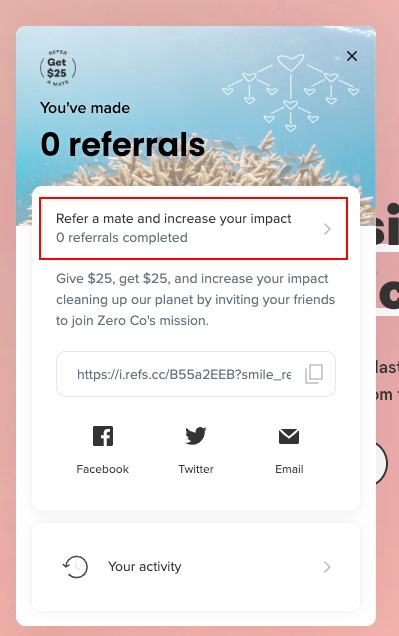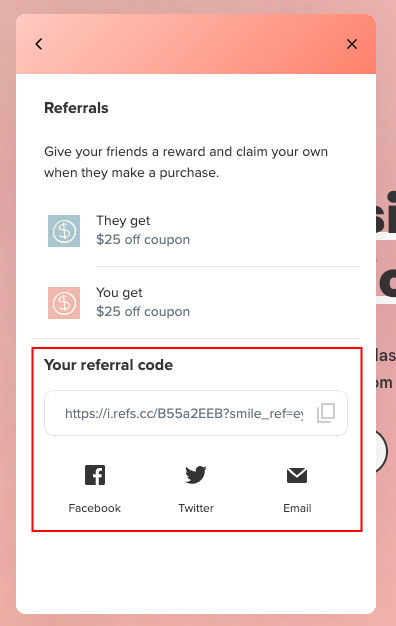 HOW CAN I KEEP TRACK OF HOW MANY PEOPLE HAVE REDEEMED MY CODE?
As soon as a friend has used your referral code, you'll be notified via email with a code to redeem but you can come back to the store anytime and check your rewards by going to Referrals in the top menu (make sure you're logged in!). You can also copy the referral code from within here to use on the store.
Clicking on 'Referrals' in the circle 'Get $25' widget in the footer on the store will open the Plastic Busting referrals info panel. To check your rewards, click on 'Your Activity' and you'll see a summary of your activity there plus who's redeemed and a record of all your discount codes.
Easy peasy, lemon squeezy.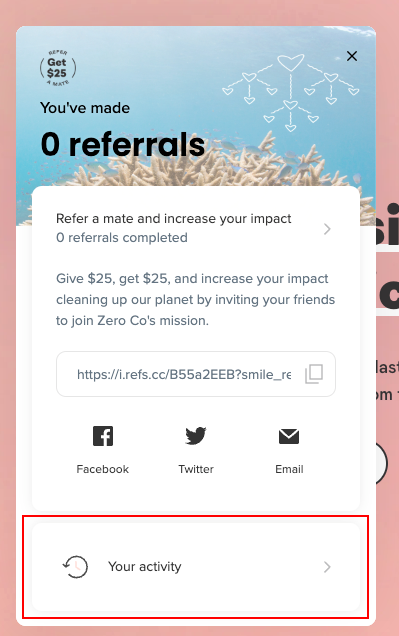 THANKS FOR HELPING UNTRASH THE PLANET, PLASTIC BUSTING LEGEND!
Was this article helpful?